St Faith's Church, Kilsby
There has been a church in Kilsby, Northamptonshire, since the 13th century and the present old stone building still stands to serve the village.
We are part of the Benefice of Barby with Kilsby in the Daventry Deanery and we belong to the Daventry Team Ministry.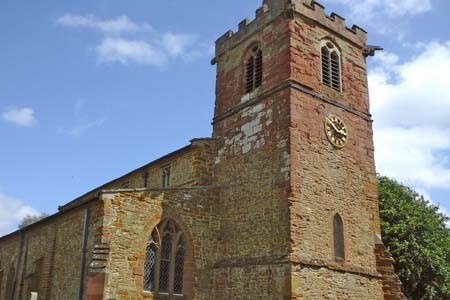 Sunday 12th July As services are still suspended, Rev Nigel Fry has recorded a Morning Worship service for the Fifth Sunday after Trinity to follow at home. This can be downloaded as an MP3 file, along with the order of service.
All Church services are suspended until further notice.
From 16th June, St Faith's church will be open for private prayer for two hours each day, usually 8-9am and 6-7pm (10-11am and 6-7pm on Sunday). The church will be supervised during these periods, and everyone is asked to maintain social distancing. Opening times for 12-19 July 2020 (PDF)
Sunday services will continue to be recorded and distributed as audio files for the time being, and small groups of six people can meet outside in "bubbles" to listen and worship together. Please email the Vicar at enfrys@gmail.com for more details on worship bubbles and how to access the church safely.
If you have a particular concern, or a prayer request, or you're aware of someone who is on their own who would appreciate a phone call, please contact Rev Nigel Fry on 07854 810 588 or enfrys@gmail.com
If you would like to be on the benefice email group please contact Rev Nigel via email at enfrys@gmail.com
If you would like to be on the benefice WhatsApp group please join WhatsApp (by downloading the app) and emailing your phone number to enfrys@gmail.com
Listen to previous audio recordings
Regular services
We usually hold a weekly Sunday service, at 11am. Services on fifth Sundays alternate between Kilsby and Barby. All are welcome, especially children. A children's play area, with toys, books and colouring materials, is available at the back of the church.
Please note: due to the coronavirus, all Church services are suspended until further notice.
We have a choir of adults and children, and the four bells are rung regularly before services.
We have an active Social Committee who organise regular coffee mornings, quiz nights, fashions shows etc.
A warm welcome to everyone to join us for one of the services and if you would like to join the choir, become a bellringer, or help with children's activities, we would be pleased to see you.
For news of more events and this month's services, please see the Kilsby & Barby church newsletter.