Plastic Bertrand: An 1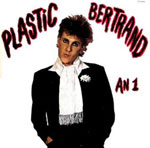 Well, his real name, apparently, was Roger Jouret, and he's probably the fourth most famous Belgian. He had one hit worldwide - Ca Plane Pour Moi. With its infectious matching of jaunty vocals to hard driving guitar riffs, and three (count em) chords, it swept all before it in the summer of 1978.
This accompanied a stunning debut album, the punk classic An 1. (Year one, or volume one). Except it wasn't really punk, and neither was he. By all accounts, it was a piss-take, or an attempt to cash in on the current craze for all things punk. But if, like me, you were 11 years old and knew none of this, it didn't matter. It was my first introduction to the new wave, and if it took a dodgy Belgian and a bunch of session musicians to introduce me to the Buzzcocks and the Pistols, well, it was enough.
There were a lot of rumours about old Plastic. There still are. Did he actually sing on his big hit? (Probably not - that was producer Lou Deprijk, who also wrote most of the songs.) Did he have any talent at all? (Possibly, but investigations are still continuing.) What became of his big comeback in the 1990s? (One appearance on Channel 4's late-night Eurotrash seems to be the extent of it.)
There's an interesting interview with Lou Deprijk on the Frites website. It's in French, but it does feature an unusual interpretation of Ca Plane Pour Moi!
An 1: the music
Short but sweet. Eleven tracks, many pure pop genius, a few unlistenable trash.
I've added short extracts from some of the songs, to give a flavour for those yet to taste the mindless naivety that was Plastic Bertrand. Click on the

after the titles, above. These are very low quality MP3s, to keep the file sizes down - and they're all under 30 seconds, under the copyright rules of fair use. (That said, the whole LP is available via the Lost in Tyme blog. Nothing to do with me, guv.) You can now get it legally via iTunes, if you do that sort of thing.
Lyrics, in French and English, to some of the songs are available here.
According to the sleeve of 1980's Grands Succes, Roger found himself disagreeing with the "no future" ethos of punk, whilst still liking the sound. The result was An 1, with its driving, relentless, and frankly monotonous, chords coupled with sometimes inane, sometimes innocent lyrics about trains, butterflies, mandolins and farmyard animals. Often the words were chosen for their sound rather than any intrinsic meaning, a process that reached its apogee with ...
Of course this is the famous one. And deservedly so. Loads of people have covered this, but none better than "Plastic". Or Lou. Whoever actually sang it, it's an anthem for a generation. If only they could understand it. Listen to an MP3 sample
I remember playing it to a friend, who was heavily rooted in classical music, as part of an argument over passion v musicianship, to show how much energy mattered in music. He just looked at me open-mouthed. "But there are only two notes!" And then a moment later: "Now there's only one. How can it be music?" And I just nodded and grinned. "Exactly."
There was also an English version, Jet Boy Jet Girl, by Elton Motello (aka Alan Ward) . There's some debate as to which came first, but the backing track is identical, by virtue of the fact they shared the same musicians (more on the sequence of the sessions - they also recorded a version as Bad Boy Bad Girl by Lou's latin-disco outfit Two Man Sound). What I do know for certain is that the lyrics of Jet Boy are far filthier ... Listen to an MP3 sample | More on Motello | even more. This English version also gained notoriety by virtue of a cover by Captain Sensible of the Damned.
A fellow called Benny also did a German version, Bin Wieder Frei. Can't say it's an improvement, but the lyrics are here. You can still get it on a German 70s compilation - listen to a clip from Amazon. There have been many, many other cover versions, including Sonic Youth, Presidents of the United States of America, Leila K (her site includes the video), an electro-techno take by David Carreta, electro pioneers Telex, and, apparently, an Australian acoustic version from My Friend the Chocolate Cake. I don't know if it's ever been covered in Dutch, but you can certainly get Dutch lyrics. It is, of course, available as a MIDI file, and a karaoke backing track. You can even, god help us, get it as a ring tone.

Lots of sites have the lyrics for this classic, including this one! But no one can explain exactly what they mean ... Some believe that it's just a stream of gibberish, choosing words that sound vaguely "rock'n'roll", while others suggest that it's a particular form of Parisian street slang popular among the youth of the 1970s. Whatever.
Court cases in 2006 and 2010 reopened the question of whose song Ça Plane Pour Moi really was - it seems now to be definitively Lou's (he wrote it, he sang on it), but with Plastic claiming ownership by association. Again, whatever.
There is a theory that the lyrics to Ça Plane ... can't be translated into English. Having tried, I'd have to agree. A basic attempt, from Google via my rusty schoolboy French, is on my lyrics page. If anyone with a knowledge of French slang cares to correct me, I'd love to know!
This gets the album off to a flying start with a racing riff. A song about a train, I believe. And an absolute belter. Check out those lyrics.
This was a gloriously catchy tune, full of energy, if not exactly punk. I was surprised to find out, many years later, that it was a cover version of an old romantic ballad, originally by Dalida in 1956. Brief sample at amazon.fr By all accounts, Plastic's interpretation was about as sacriligious to Dalida fans as Sid Vicious's My Way was to Sinatra's. Although the song is called Bambino, the tune itself is known as Guaglione. I have an idea that Prez Prado had a hit with it in the 90s on the back of a TV advert for Guinness.
Bambino was released as a 7-inch in France on the Vogue label, backed with Le Petit Tortillard. Or was it vice versa? Either way, a great combination of tracks.
The lyrics are rather sweet really ...
"Rancid sweat, number one." I suppose in a way this is true punk, in as much as naif = punk - or at least, that's one meaning: the more literal naive is probably more accurate. A bit crap really, but interesting for some of the sound effects. I think I prefer the Solo Naif Song at the end of the album, with its cheesy organ solo. At least it's only 30 seconds long. But again, I have to admit, the words are rather sweet.
A cover of the Small Faces song, in French, this was released as the follow-up single to Ca Plane Pour Moi, and went nowhere. It dented the UK Top 40, and got a little airplay, but to be honest, it flopped. Makes a nice album filler though.
As with Ca Plane pour Moi, Sha La La La Lee also crops up on Elton Motello's Victim of Time album, using the same backing track, only this time in English.
Alas, I have no idea what it's about, although I think "pognon" means dough. Which doesn't really help. But no matter, it's the music that counts! And it's got a great, if mindless, riff. A chap called Frenchy is working on a cover version. Maybe he knows what it's all about.
Update, 2006 - Frenchy adds: "I have a small label called Ditchdiggin'records, based in LA right now, and I'm planning to release next year a tribute to An 1 but it would be called An 30 (30 years later ...). So if you know any bands that would be interested to contribute tracks for it, let them know about it.
"So far I'm gonna put the Damned "Jet Boy Jet Girl", my version of "Pognon Pognon", and the rest of the tracks are open to any bands who want them. It will be a small release album, maybe 500 copies to start with, and if it pays for itself, I'll put some more out. It's just a small independent DIY punk rock label.
"I'm just doing this because I'm like you - I think this must be the best fucking punk rock album that ever came out ... I first bought "Ca plane pour moi" when I was 11 and it's been almost 30 years from now and I'm still a lot into it. I still have my original copy too ..."
Read more at www.soundclick.com/frenchysolo
With it's funny hop-along rythm, this is one of only two really weak songs on the album. But it's at the start of side two, so you can easily skip it and put the needle down at the start of ...
Not a 60s cover, but a catchy pop anthem about, er ... a countdown? Oddly, this is the one track from the album that I find myself humming most. And what is that line about chewing gum ...? Again, this track appeared on Elton Motello's Victim of Time album, under the title Get the Guy. As did ...
"Ma ma ma ma ... Pogo! Pogo!" The b-side to Ca Plane Pour Moi, this high-energy rollercoaster boasts a cracking riff. And it lives up to its name superbly, as it's a great song to pogo to. As I did at the primary school disco, aged 11. I did get a few funny looks, mind you. Bring your own records, the teacher said. Everyone else brought Olivia Newton-John and the Bee Gees. I brought Plastic Bertrand and Boney M. I grew out of Boney M.
Wha! Wha! (Je suis un chien, nous sommes des chiens, vous etes des chiens)
Yes, this is what punk was all about. A repetitive beat, even more repetitive lyrics, three notes, and a daft Belgian making dog noises. A quite unbelievable song
Nice ending too, where it sounds like it's disappearing down a plughole.
A very little biographical detail
According to most accounts, our hero was born Roger Jouret in 1958, and had a Russian father. Curiously, his official biography gives his date of birth as February 24th, 1954, to a French father and Ukranian mother. He made his first record at the age of eight, and trained as a stage manager before becoming the drummer for Belgian punk trio Hubble Bubble. Meeting producer Lou Deprijck at one of HB's last gigs, and reputedly becoming tired of the punk attitude, he tried his hand at a solo record - which was performed mainly by session musicians, with the producer on vocals for some tracks.
After the success of Ca Plane Pour Moi, Roger tried his luck with a couple of covers, including Walk Like a Man, and Tout Petite la Planete. But that luck started to run out.
An 2 and beyond

There never was an An 2. Roger went back to his mediocre career and made a few rather uninteresting records. He was mildly big in Canada for a while. He failed to win Eurovision. There was a greatest hits collection. And then another. And another. You can pick them up at Amazon if you like. But none compared to the majesty of that first raw blast of power that was An 1. It's never been reissued, there is no CD. Three or four tracks have crept out on to the other compilations, but apart from that, An 1 is lost to the world. And the world is a more colourless place as a result.
Update: 2006 - An 1 is now available to download via itunes, and whilst I, quite frankly, can't make head nor tail of their oh-so-hip web interface, I'm sure more iPod literate types will whizz through it. Great to see Plastic's classic available once more.

Other bits and pieces
I'm informed by Anagram Genius that an anagram of Plastic Bertrand is Talent? Birdcrap! Which kind of fits.
The aptly named Wanton Disregard for Copyright Productions have a an MP3 of Ca Plane Pour Moi. Obviously I couldn't encourage you to look at it. Buy a CD instead and keep Roger in his old age.
There claim to be Real player clips of Ca Plane Pour Moi and Sha La La La La Lee at the Belgian Pop and Rock Archives - who have a nice page on Plastic, probably encapsulating the appeal of An 1 better than I could hope to - but I can't get them to work. There also seems to be a Quicktime download of Ca Plane Pour Moi here, but it crashes my computer. Perhaps you'll have better luck.
Bizarrely, that song was featured in the soundtrack to Winning London, a film starring the Olsen sisters, Mary-Kate and Ashley. If you don't know who they are, you've probably reached puberty. But it's worth getting the soundtrack album, as it also features the classic Get Out of London by Intaferon.
Whatever happened to Plastic Bertrand? Some information from Lost Idols
or, if your French is up to it, a more detailed biography, including recent (2003) details. It seems our hero has another new album out, and appeared at the Cirque Royal in Brussels for a 25th anniversary Plastic Fantastic show. There's a video of him singing Ca Plane... at Fete de la musique 2002 in Paris. In 2002 he guested as a celebrity judge on Star Academy, a Belgian "reality" tv show for pop wannabees.
But to get it from the horse's mouth, try the official Plastic Bertrand site. See the wacky Belgian do the twist on a lurid pink background.
Other links - another brief biography in French.
Discography
Necessarily incomplete. And completely unnecessary. For fractionally more detail, visit Le Parolier. For the full picture, worldwide, see the official site.
An 1 (1978, Polydor/Sire 9103 258)
Je t'fais un plan (1979, RKM)
L'album (1980, Attic)
Plastiquez vos baffles (1982, Attic)
Pix (1989, ARS)
Ultra terrestre (2002)
and various compilations, including
Grands Succes (1981, Attic)
Plastic Bertrand (1997, Universal)
L'essentiel Plastic Bertrand
King of the Divan
A personal note
This is very much an informal and personal take on An 1, M.Bertrand and my adolescent obsessions. Much of what has gone before is ill informed and speculative. But if you'd like to correct anything, please let me know and I'll do my best to put it right.
And should you ever read this, Plastic, thanks for making 1978 such an exciting time to be 11. An 1 annoyed my dad no end, and brought an end to our Abba-inspired musical truce.
David Gibbs, 2003
Site last updated: September 2010
The Last Word
I don't like saying, "You're a punk and you're not."

There was a record out there called "Ca Plane pour Moi" by Plastic Bertrand, right? And I guarantee you if I had to play it for you right now you'd go, "Right! That is rockin!"

Now, if you were to say to any sort of purist punk, "This is a good punk record," they'd get completely enraged. But Plastic Bertrand, whoever he was, compressed into that three minutes a bloody good record that will get any comatose person toe-tapping, you know what I mean?

By purist rules, it's not allowed to even mention Plastic Bertrand. Yet, this record was probably a lot better than a lot of so-called punk records.
Joe Strummer, The Clash
(thanks to Music Thoughts)